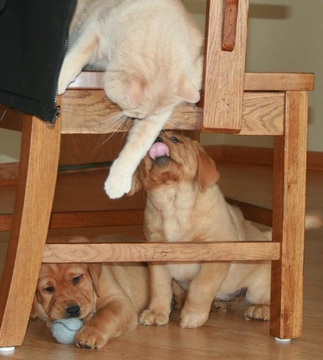 ---

Surgeries We Offer:

Spays and Neuters
Lump and Tumor Removal
Biopsies
Bladder Surgery
Dental Surgery
C-sections
Eyelid Surgeries
Ear Surgery
Wounds and Lacerations

Internal Medicine:

Dermatology, Skin and Ear Problems
Allergies
Diabetes

Digestive Disorders, Chronic Vomiting and Diarrhea
Renal (Kidney) Compromise
Liver Compromise
Pancreatitis
Urinary Problems (Incontinence, Urinary Tract Infections and Crystals/Stones in the Urine)
Cushings and Addison's Disease
Thyroid Conditions
Respiratory Problems
How is Northwest Veterinary Hospital different?
Dogs pulling owners IN the door to see Dr. Pam and her staff

Cats responding to our staff in a friendly manner, we have a dedicated feline exam room and hospital ward

A doctor who will LISTEN to your concerns and offer all possible options for your pet

Friendly faces ALWAYS

Use of gentle handling for your pet, reducing stress and making the visit enjoyable

Most wait times less than 5 minutes

A family friendly environment

A doctor who will take as much time as needed to be sure you understand diagnosis and treatment plans

Behavior and training advice from trained professionals

Same day appointments usually available

A doctor who KNOWS you and KNOWS your pet. The same doctor, every visit for consistent care.

THREE YEAR vaccine protocols for adult dogs and cats

Safest available anesthetics and one on one monitoring of all surgery patients. We never overbook our surgeries and never leave your pet unattended while under the effects of anesthesia

Client Referral Reward Program
The biggest compliment we can get from any client is the referral of their friends, family and neighbors to our hospital. Because of this we offer special incentives to both our potential new customers as well as our referring clients.

If you refer in a new client, simply have them provide us with your name on their first visit. Their first examination fee is waived and the referring client is given a $20 credit on their account to be used for any products or services at Northwest Veterinary Hospital.

We love our clients and their pets and welcome their friends and family to join us here at the Northwest Vet Hospital family!!