Importance of altering your pet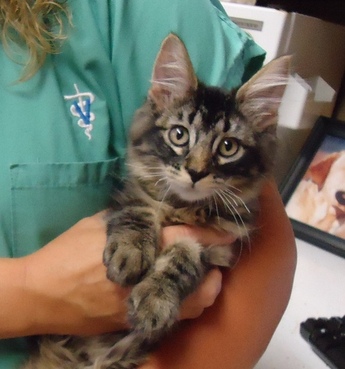 Dogs and cats are born with a full set of reproductive organs. These organs are the ovaries and uterus in a female and the testicles in a male. Pets who are not sterilized can undergo changes in personality and other problems related to maturing into adults. Reproductive hormones start to be produced between 6 months and a year of age in dogs and 4 months and 8 months in cats. If left intact, male dogs and cats can start to "mark their territory" by urinating on furniture, walls and other things in your home. If allowed to continue very long, this behavior can become permanent. Also testosterone can increase aggression in male animals. Female dogs and cats will go through heat cycles starting between 4 months and a year of age. Female dogs will pass blood and attract male dogs to their area. If left unattended for even 5 minutes they can be bred by a stray male and become pregnant. Female cats will vocalize and howl as well as being overly "pesky" at all hours of the day and night. Spaying female pets or neutering male pets is an important part of providing them with the essentials for living a long and happy life.
---
Spay Surgery Basics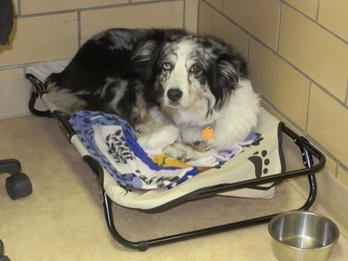 A spay surgery, also called ovariohysterectomy is the surgical removal of both ovaries and the uterus in a female. The surgery is done by making an incision through the skin, fat and muscle of the abdominal wall, locating the ovaries, "tying off" or ligating the blood vessels that go to the ovaries and then removing the uterus and ligating the vessels that supply the uterus. The surgery is easiest both on your pet and your vet when the pet is between 5 and 6 months old. This surgery is done in a sterile environment under general anesthesia.
---
Neuter Surgery Basics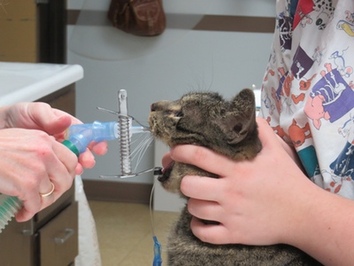 A neuter surgery, also called orchidectomy is the surgical removal of both testicles in a male dog or cat. The surgery is done by making an incision and exposing the testes and ligating or "tying off" the cord that supplies them with blood and fluids. It is a simpler surgery than a spay surgery as we do not normally have to enter their abdominal cavity. This surgery is also done in a sterile environment and under general anesthesia.
---
Why Should You Choose Northwest Veterinary Hospital?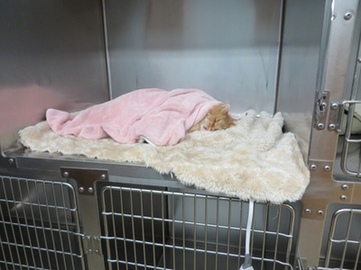 Not all surgeries, surgeons and hospitals are created equal. At Northwest Veterinary Hospital, Dr. Pam believes in one on one care for every pet, every surgery or dentistry no matter how big or small. Many veterinary hospitals will book many surgeries and anesthetic events such as dental care every morning. This leaves anesthetized pets being placed in a cage and allowed to wake up with little to no supervision while the staff and doctors proceed on to another surgery. At NWVH we book no more than 2 procedures a morning. This allows us to care for every animal under anesthesia long enough for them to sit up, swallow and look around before we walk away to start another procedure. We use injections of IV medications to allow us to place an endo-tracheal tube for breathing and the pet is put on gas Isoflurane anesthetic. The pet is then placed on an anesthetic monitor which allows us to watch an ECG of the heart and heart rate, respiratory rate, body temperature and blood pressure. An IV catheter is placed and fluids are run during the procedure. The pet is then moved to a heated surface where the procedure can be accomplished and covered with blankets and/or heating pads to help maintain their body temperature. After each procedure, the pet is moved to a well padded, heated recovery cage where a technician stands with the pet and waits for the pet to start swallowing at which time the breathing tube can be removed. Then the pet is helped to stay recumbent until they are stable enough to sit upright in their cage without help. The body temperature is then monitored every 30 minutes until the pet can stand on their own. If you want the best and most compassionate care for your furry family member, there is only one place to trust...Northwest Veterinary Hospital, Dr. Pam, Casey and Lindsey will care for your companion as they would their own.
---
Our Facility and Equipment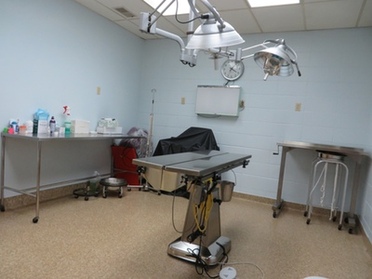 We are lucky enough to have a well designed hospital with a large dedicated suite for surgery. We have a heated V-style stainless steel surgery table able to accommodate the smallest and largest pets. We have full anesthetic monitoring capabilities and a newer state of the art gas anesthetic machine. We gown, scrub and glove for all sterile and abdominal surgeries. We have a large selection of surgery packs catered to what we need for any given procedure.
---